STYLISH / ENGAGING / STORYTELLER
WEDDING PHOTOGRAPHER IN ITALY
Welcome to my website dedicated to wedding photography in Italy! I'm Alessio Laz ,specializing in crafting visual narratives of weddings in Italy.
I'm available to capture your wedding in Tuscany, or any location in Italy and beyond. I work with couples from all around the world, making me a true Italy destination wedding photographer. My mission is to create a visual narrative of your day through my photographs.
My approach to wedding photography is characterized by a natural and spontaneous style, enriched by my continuous pursuit of creative skills. Your portraits will be a blend of documentary and creative portrait photography, just as you can see in my portfolio.
Throughout my more than 10 years of career, I've always strived to stay up-to-date and develop new skills while never forgetting the experience I've gained. This is why I also define my style as editorial, yet firmly grounded in reality and simplicity.
During the day, I aim to create detailed and contextualized images, giving significance to you but also to the beautiful location hosting your wedding in Italy. I strongly believe that this is the most dedicated way to work, always striving to give my best in every situation
Capturing one of the most important days of your life is my responsibility, and I know that I am giving life to your memories, preserving them for the future
Special Moment of this Magic 2023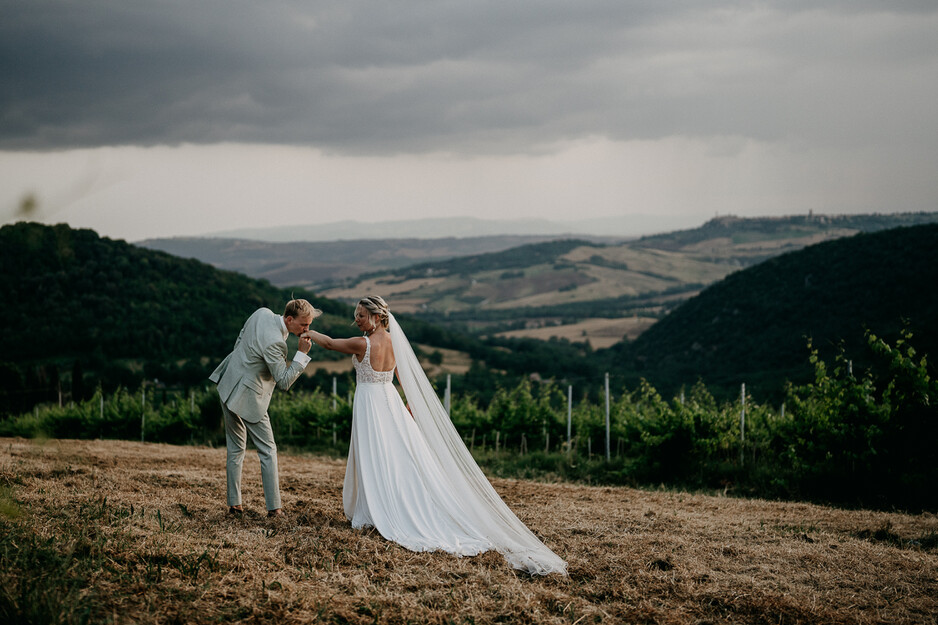 He was so encouraging, and made sure at every step that we were comfortable and happy, and showed us photos along the way to be sure we were happy with the product. As my (now) husband and I are typically introverts, having a photographer follow us during the day felt a little outside of our comfort zones, but Alessio made it his mission to capture our happiest moments beautifully. His eye for beautiful photography is simply the cherry on top of the cake that was his warm and encouraging demeanor. He directed us to locations with amazing scenery, took myriads of photos of our large family without hesitation, and never skipped a beat when we asked if we could have one more photo. Alessio constantly rolled with the punches, be it our family, the weather, and our event scheduling. I would hire
I'm so glad we chose Alessio as our wedding photographer. He was kind, intentional, and professional. He took a look around the venue prior to the ceremony to select the best spots for photos and discussed our options ahead of time. He continued to remind us to enjoy the day, don't rush, and helped us ease into comfortability with having our photos taken which is something I appreciated. We had a few goofy/ unusual photo op requests which he was willing to accommodate for. He helped make our day truly unique and accommodated to us as a couple. We are so thankful for his time, talent, and flexibility. I highly recommend Alessio to anyone looking for a photographer!
Justine & Tim // Illinois USA
We booked Alessio to photograph our wedding in Italy and we are so happy we did! What drew me to Alessio in the first place was that he didn't change the colors too much in his pictures - they are beautifully taken and edited, without the colors being too different. All of our interactions with him were so positive - he was kind and so much fun to work with, he takes beautiful pictures, he has lots of ideas for poses, and he was happy to take pictures of our ideas as well. He was so much fun to work with and chat to while I was getting ready and while my husband and I had a photoshoot. Alternatively, during the ceremony and the rest of the reception, we didn't even notice he was there taking pictures. I believe that's what makes a great wedding photographer! We are so happy with all the pictures he took - he takes great posed, photoshoot pictures and he also takes so many beautiful, candid pictures too. We are so, so happy with all of our pictures and the whole experience with Alessio. I would highly recommend him!
Alessio is a great photographer, easy to communicate with and a pleasure to be around. We booked Alessio a few months before heading to Italy from Canada and really enjoyed our time together. We shot our elopement in a very private setting and the photos turned out great!
Happy to shoot with Alessio again!"
Bernadette & Branko // Mexico
We were lucky to have found Alessio. We had the most wonderful day and Alessio lets us enjoy that day over and over again through his wonderful pictures. He stayed nice on background and was very flexible. The after service was great and we received pictures in digital format. Highly recommend him.
Jaime & Mike // Pennsylvania USA
Don't hesitate, choose Alessio! My husband and I booked Alessio for our wedding in Tuscany, we were a little nervous at first but he made us feel so comfortable and was so easy to work with it, that we were able to relax and have fun. Alessio does more natural photo shoots, which I have to say was great, we didn't have all these awkward poses, he would direct us and then just say be yourself and he snapped away. He definitely delivered spectacular memories, it was so hard to choose the photos, they were all so beautiful. Grazie Alessio!
Lauriane & Julien // Belgium
Alessio was extremely nice, good and professional. I was very surprised to view some pictures that I did not expect: he was hidden behind us, behind some guests to capture all nice and authentic moments. Thanks again Alessio
Danielle & Stefan // Netherlands
Perfect and relaxed services. We loved the whole proces with Alessio. His services are great and the pictures he made caputered the whole feeling we had during our wedding!